As you work toward planning your dream wedding, there are many vendors to consider. Being wedding photographers, we have worked with our fair share of vendors.
Today we want to feature one of our favourite bridal shops in Regina- Newline Fashions & Bridal.
We spent some time asking Phuong of Newline Fashions & Bridal some questions to get to know her, her story, her heart, and her business. If you are looking for a great team with great service and great bride or bridesmaid dresses – look no further!

What is your business name and what services/products do you provide for your clients?
We are Newline Fashions & Bridal located in Regina, SK and we provide wedding gowns, bridesmaid dresses, prom dresses, and bridal accessories!
How long have you been in business?
We started our family business in 1995 so we have been in this industry for 25 years now! My mom had been a manager at a bridal store for a couple of years before deciding to start up her own business. She has always had a keen eye for bridal fashion and loves making people feel beautiful. We have all learned a lot from her, making it easier to have that advice when we need it. That's how Newline Fashions began!
Tell us a little bit about yourself and your team.
I grew up within the bridal industry and started working at Newline while going to school. I went to the U of R for marketing and decided to steer away from the bridal industry for a bit and open my own clothing store. After 5 years with my clothing store, I had the opportunity to take over our family business so I came back to my first love, which is Newline Fashions.
I am also very fortunate to have such a strong & amazing team at the shop! Destinee, Lexie, and Zuhal are our full-time knowledgeable bridal consultants. I am so grateful to work with these incredible women that truly care about me and my business. They are amazing ladies with great style, who have a passion for making our customers look and feel their absolute best, and are eager to help customers find their dream dress!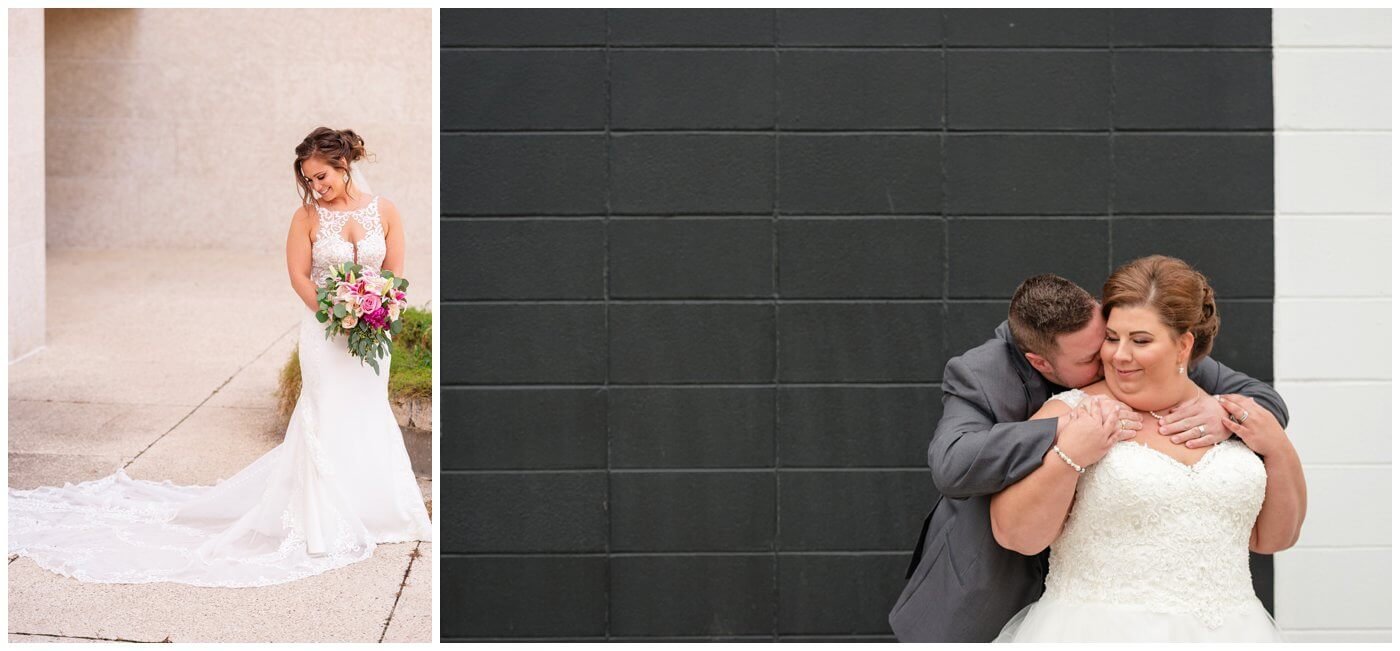 Are there specific brands or products that you offer?
We have a very large selection of amazing designers that we are proud to carry. All of our designers have different styles, colours and vibes so that no matter your vision, we will have a designer that offers it!
We don't have a specific niche, we want to be able to help anyone no matter their style!
What is something you wish brides knew about your business?
We really take pride in offering gowns that, no matter your price point, style, and size, we will have something for you! Bridal shopping is an amazing and incredible experience, one that you'll remember forever so we take the time to really learn about our gowns and the options our designers offer. We also work really hard to order a variety of gowns to have in stock, as well as a range of sizes. We proudly carry extended sizing so that brides of every shape and size are comfortable trying on dresses!
There's also a lot of behind-the-scenes action that takes place whether it's placing orders, receiving new stock, steaming gowns or organizing customer orders. A bridal shop is a busy place even if no one is here! We work really hard to make sure orders arrive on time and arrive in perfect condition.
What does a typical bridal or bridesmaid consult look like?
Prior to your bridal appointment, we will conduct a virtual appointment with the bride-to-be! The virtual appointment is a brief phone conversation that gives us an idea of what style you like, the shape you are looking for and the price point you want to stay within.
The virtual appointment allows us to learn more about you and your vision for your wedding day so that when you come to your bridal appointment, we will have the right gowns pulled for you to try on! During the actual appointment, you are more than welcome to let us know if there are other styles you are hoping to try on, and of course, we can pull them for you as well!
Pictures also help us a lot, so if you have photos or a Pinterest board we hope that you share them with us! The more info we have, the easier it is to find your perfect gown!
With over 350 dresses, we have a lot of options and can have a lot of fun trying on! Be prepared to laugh- we know how to have a lot of fun, and want you to enjoy this experience as much as you can!

Where can people learn more about your business and follow you?
Our website (https://www.newlinefashion.ca) is where you'll find information about the designers we carry, as well as information about our store and what we have to offer, but of course, we also have social media. You can find us on Instagram & Facebook although you'll see us most active on Instagram! You can catch a closer look at our newest arrivals and some behind-the-scenes fun through our stories.
Where are you located?
We are located at 810 Victoria Ave, just a few doors down from the Milky Way! We have our own parking lot for our customers making it easy and convenient to find parking.
What is your favourite thing about working in the wedding industry?
My favourite part of working in the wedding industry is when I get to experience that moment with the bride when she is saying Yes to the Dress! It is so amazing when you get to see how happy the bride is and you can tell that they will always remember that moment forever.
I truly love making brides feel good and look their absolute best!
Another fun part of my job is having the opportunity to go on buying trips to pick out our stock for the upcoming seasons. It's so fun to see what designers come up with and who doesn't love to shop and look at wedding gowns all day?!
What has been the most welcome surprise in your business during this COVID season?
All of the amazing support we have had from our customers. Although so many changes happened throughout 2020, our customers handled it with so much grace and we are so happy that everyone was as understanding as they were. Everyone has been so patient and amazing and we are so blessed and grateful for every single one of our customers!
Are there any changes to your business that brides should know about during this season?
The biggest change we have implemented is the number of guests a bride can bring with her. Because we want to keep our other customers as well as our staff and their families safe, we had to limit the number of guests we allow in the store.
As for delivery times, COVID has not affected that whatsoever. We are working hard behind the scenes and are always in contact with the companies to ensure everything is still arriving on time.
Do you have any tips for brides before they come to your store?
I would say to come in with an open mind when trying on. Many times brides have a certain vision or direction they want to go, but end up going a completely different route! Being open to different styles gives you a lot more choices, but at the end of the day it's your decision and you need to follow your heart.
The most important thing is to pay attention to how you feel in the gowns. Your opinion is the most important opinion, so be honest and let us know how you feel!
Make sure you are happy and in love with it because this is your day so you deserve to look and feel the absolute best!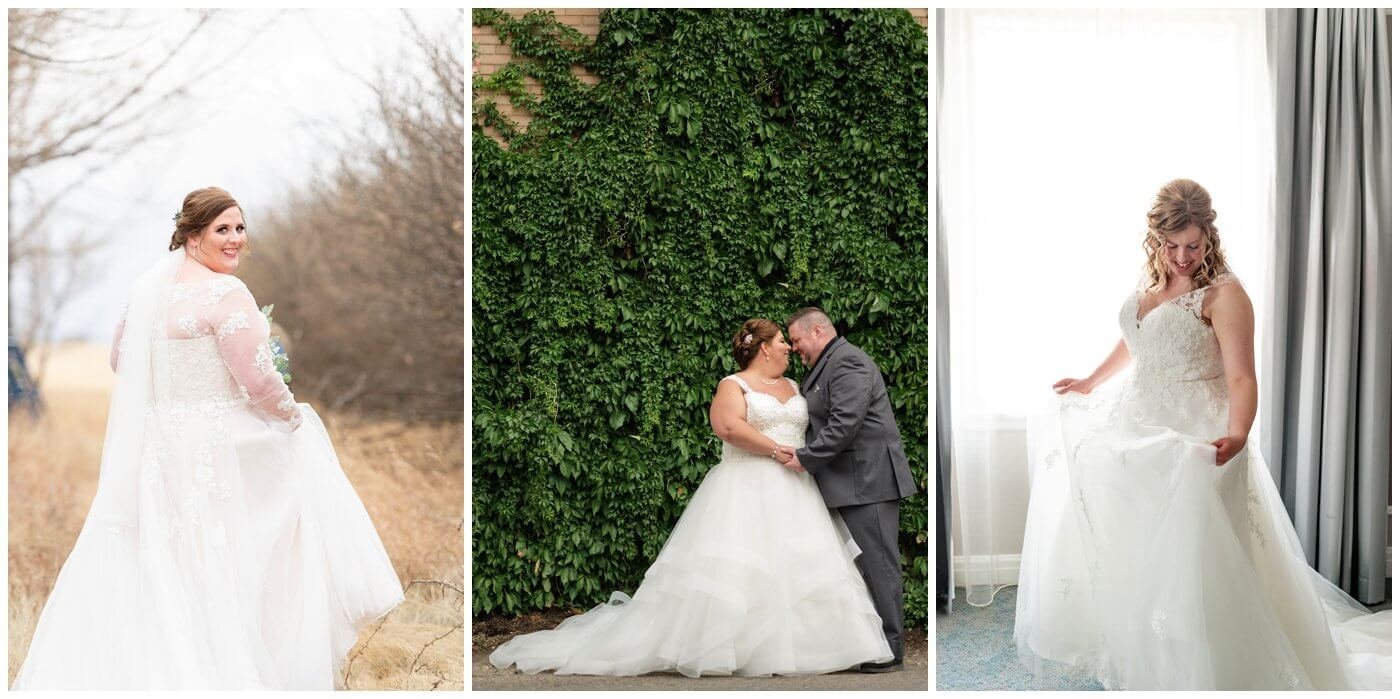 {related: Featured Vendor: La Beaute by Samantha}
{related: Featured Vendor: Blooms by Alison}