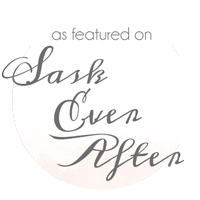 High school sweethearts. I think, thanks to all of the movies in our youth, this is something that everyone longs to be. That being said, I may be a little biased on the subject, as Cam & I have known each other since we were little kids! I love that I have known him my whole life! Recently, we got to shoot a beautiful engagement session with fellow high school sweethearts, Cole & Alisha!
This summer they took a trip out to British Columbia to visit the area where some of Cole's family lives. They were driving through Sicamous, and found themselves reminiscing as they drove through the neighbourhood where his grandparent's had lived. At the end of the road is a mountainside, somewhere they had hiked and gone adventuring together many times before. Cole told Alisha that he wanted to climb the mountain side "real quick", just to get a look at the view, and away they went. As they climbed higher and higher, they climbed up on top of a giant boulder, where Cole proceeded to get down on one knee, and propose to Alisha!
I am so thankful that we had the most beautiful evening for this engagement session. We ventured out to Wascana Trails with Cole & Alisha and captured some absolutely amazing images of them. Everyone knows how I feel about red hair, so obviously, Alisha and I had an instant connection. :) It is so much fun for Cam & I to photograph couples who love each other so much that they can't contain it. This was one of those sessions where you can so clearly feel the love they have for one another. What a beautiful gift that is to your marriage, and later on, to your family! Never lose that!
Cole & Alisha, thank you so much for allowing us to capture these memories for you. You were such good sports in following us- well, let's be honest, MY crazy light chasing ideas! We are so thankful that we got to spend some more time getting to know you, and hearing more about your love story! Congratulations again on your upcoming Regina wedding!
{related: Cole & Alisha Wedding}
{ Cole & Alisha Engagement }