The sun streamed through the big beautiful windows of the Salon Society as Kim & her bridesmaids completed their morning of hair & makeup preparation. Excitement was building in the room with each passing minute. It was the day that Trevor & Kim would be married! Final preparations for the bride & groom were made at The Atlas Hotel, as they awaited that first look at each other at either end of the aisle.
In the groom's suite, Trevor & his groomsmen enjoyed a very laid back morning. Sharing a beer from Pile O' Bones Brewing Company, as they casually joked back and forth. That morning he had received a letter & gift from Kim, that he opened and read through with a smile on his face. Trevor had also given Kim a letter to read through expressing his excitement for the day. Everyone was so excited to get this day started!
Wedding days tend to have a feeling of nervous energy, but it usually comes as nerves before the ceremony from the bride or groom. We encountered some nervous energy on this wedding day that was a first for us. As we took pictures behind the Royal Saskatchewan Museum, we were approached by a disgruntled squirrel. We are still unsure as to what caused the nerves, but the squirrel expressed their disagreement by climbing up a bridesmaid's dress, and then leaping onto a second bridesmaid before being shoo'd away by the groomsmen. Keeping a safe distance from the tree where the squirrel took refuge, they were tasked with keeping an eye on it.
We continued with Trevor & Kim's family photos feeling we were in the clear. Things appeared to be ok (squirrel-wise) but then a shriek came out of Kim's mouth that I will never forget. Our friend, the squirrel, was back with a vengeance- and now was on Kim's back! It ran up her train, climbing up her dress until it got to the front, and after a couple of twists and turns lept off the front. I think I was still in shock as I snapped a blurry photo from behind my unbelieving camera! This is one nervous energy that I really hope we do not encounter again!
Trevor & Kim included so many beautiful & unique touches to their wedding day. As gifts to his groomsmen, Trevor had custom cufflinks made for each of them. The morning preparations for the bridesmaids were all done in their personalized robes. Kim's sister, Francine, was honoured and represented by a pendant that included Francine's fingerprint which was affixed to Kim's bouquet that she carried with her throughout the day. Trevor's custom wedding band, from GMG Jewellers, was in honour of Kim's maiden name being Forest and what a gorgeous tribute it is!
Trevor & Kim, we are so thankful to have the opportunity to capture your wedding day. Through the expected, and the DEFINITELY unexpected, we laughed so hard and got to experience the joy & love you have for one another. I know that rain on your wedding day is considered to be good luck, so surviving a squirrel attack on your wedding day has got to be a good omen! We wish you the richest blessings in your marriage, and encourage you to continue to remind one another every day of the ways in which you are "Simply the Best".
xoxo
Cam & Courtney
(related: Trevor & Kim – Engagement)
{ Trevor & Kim – Spring Wedding 2022 }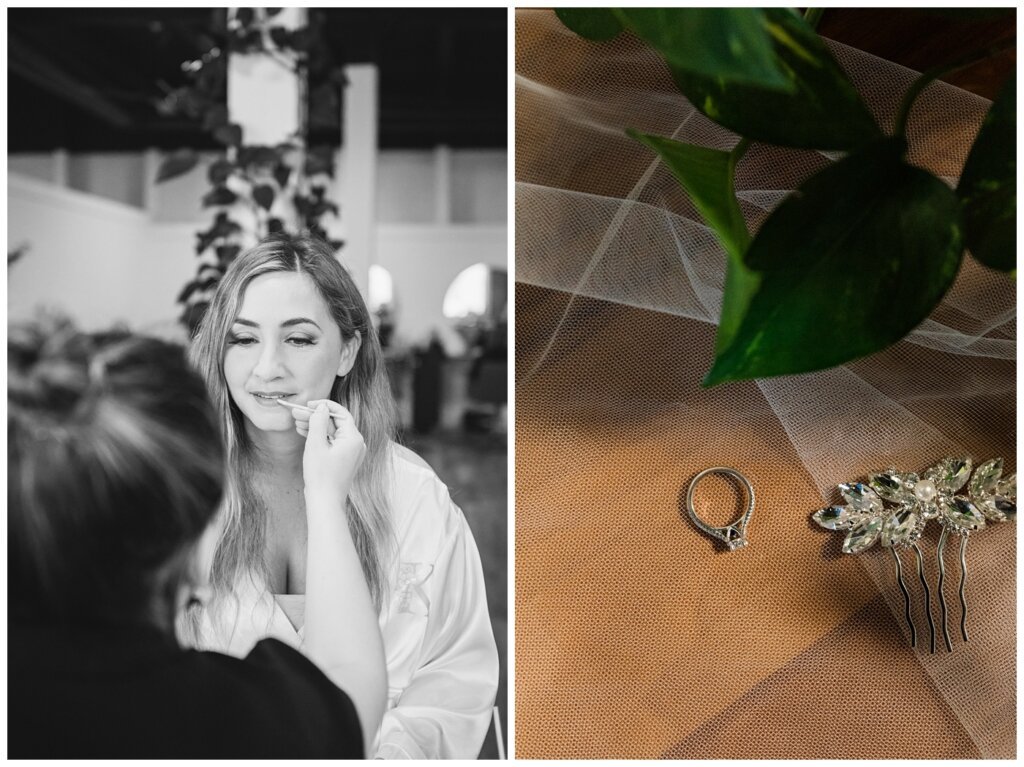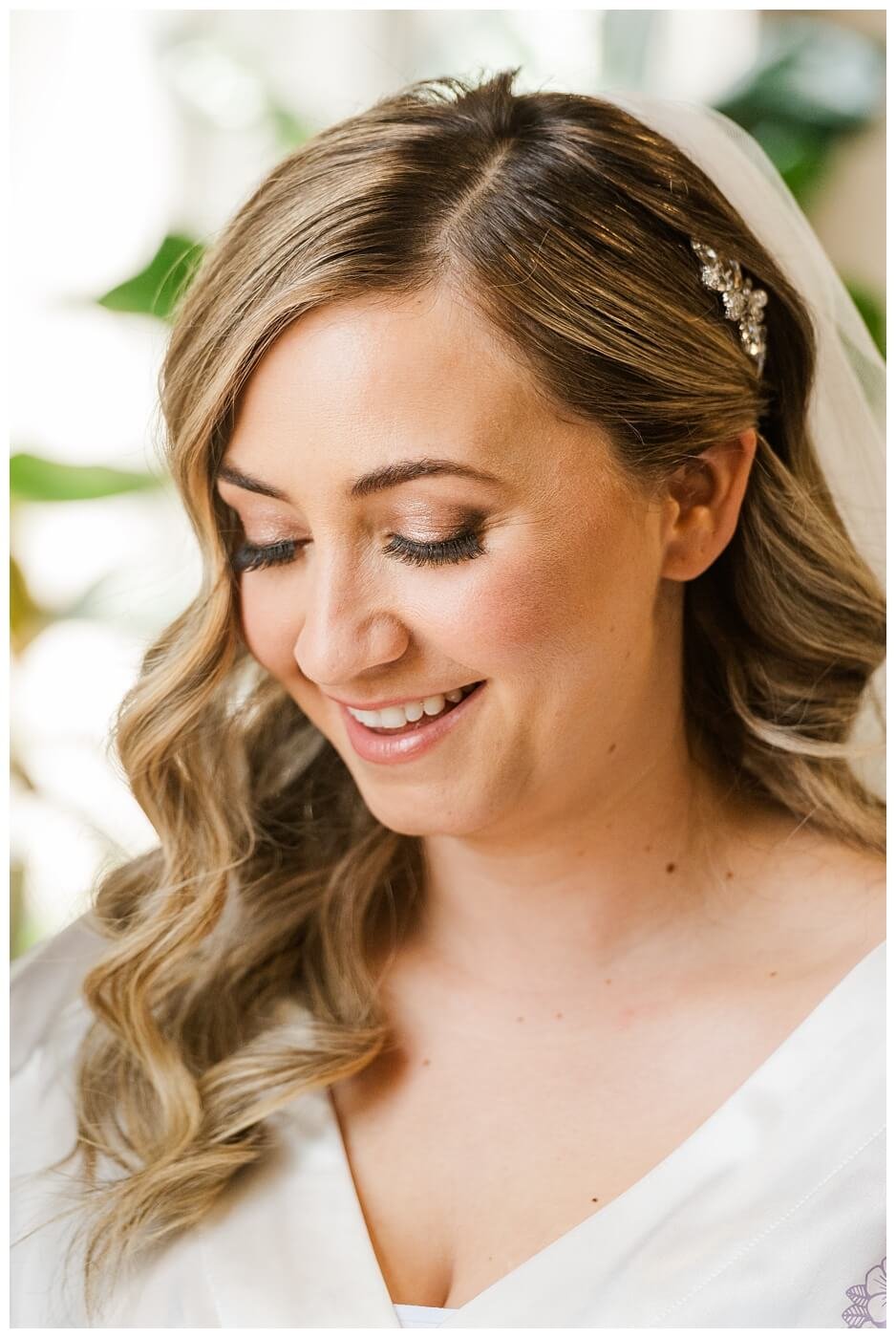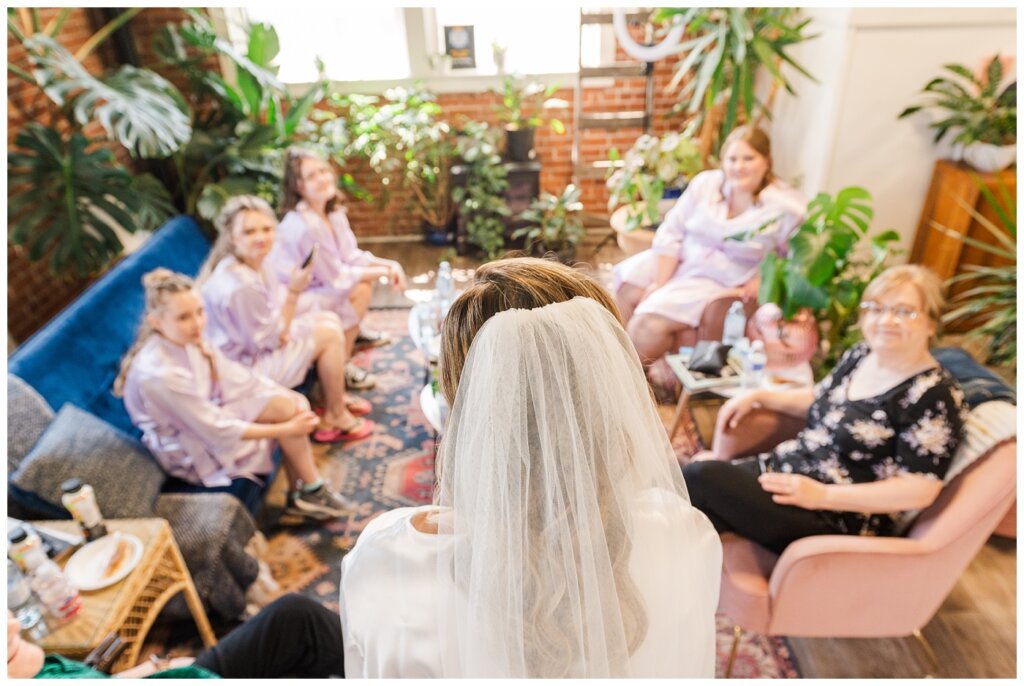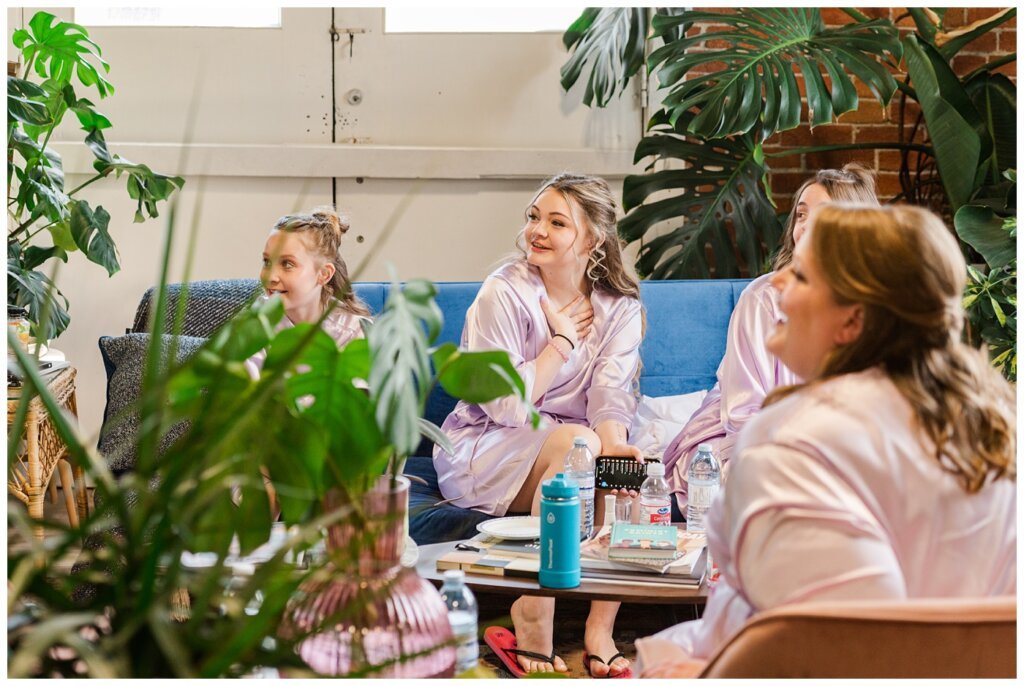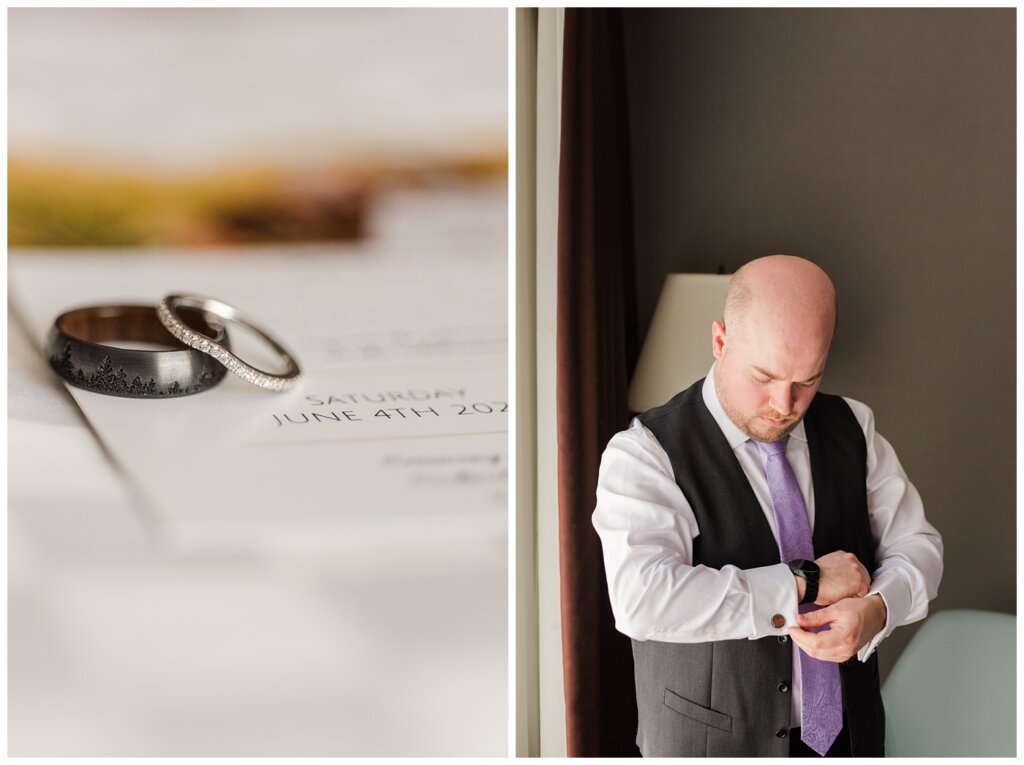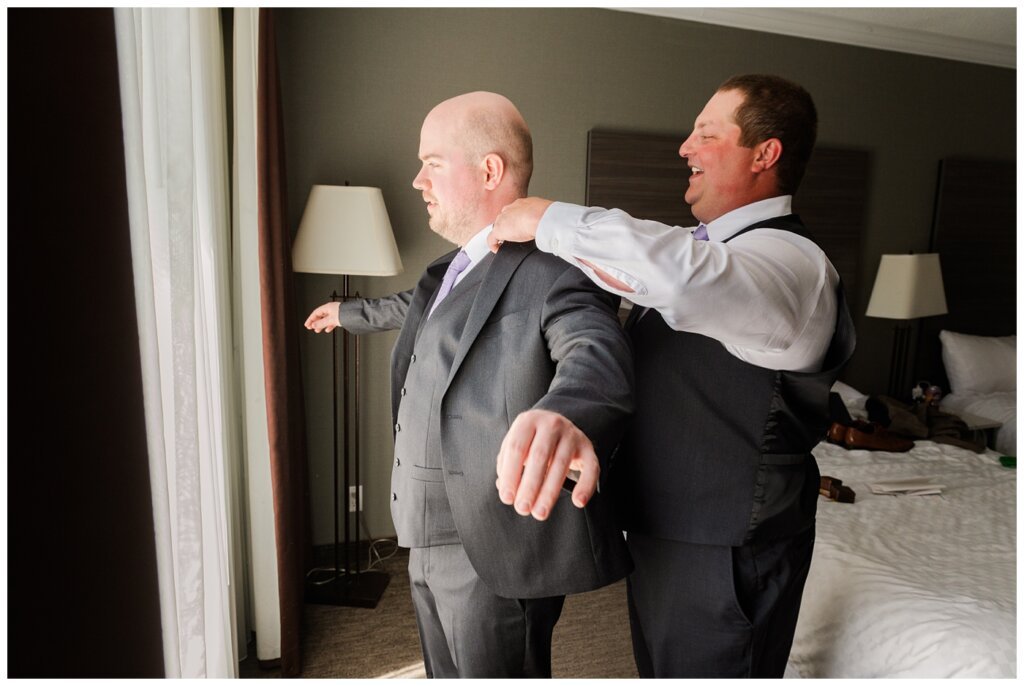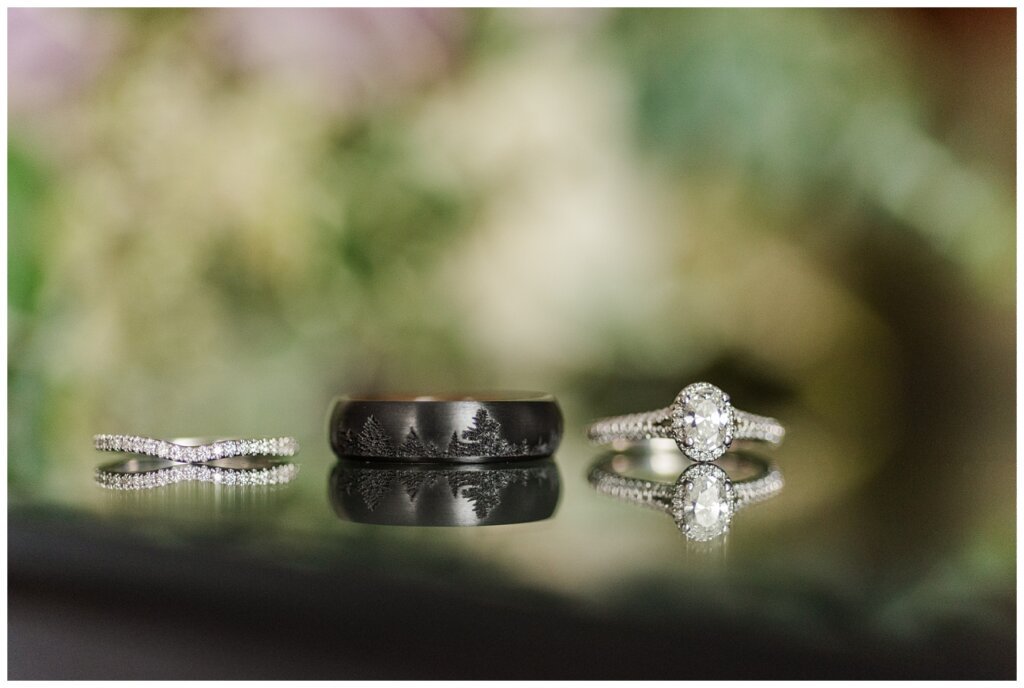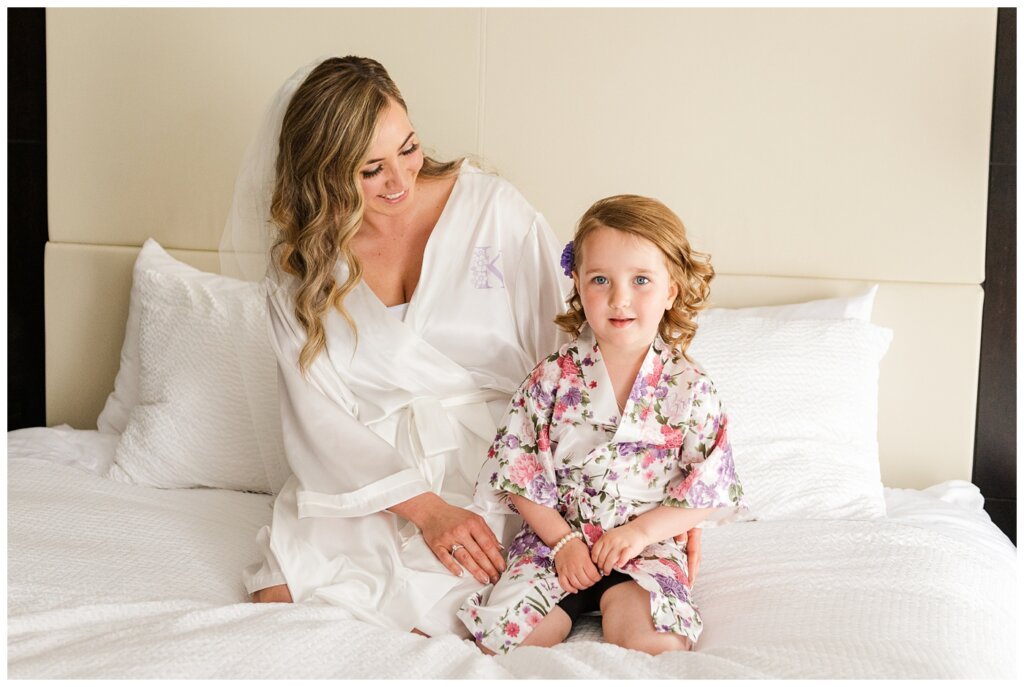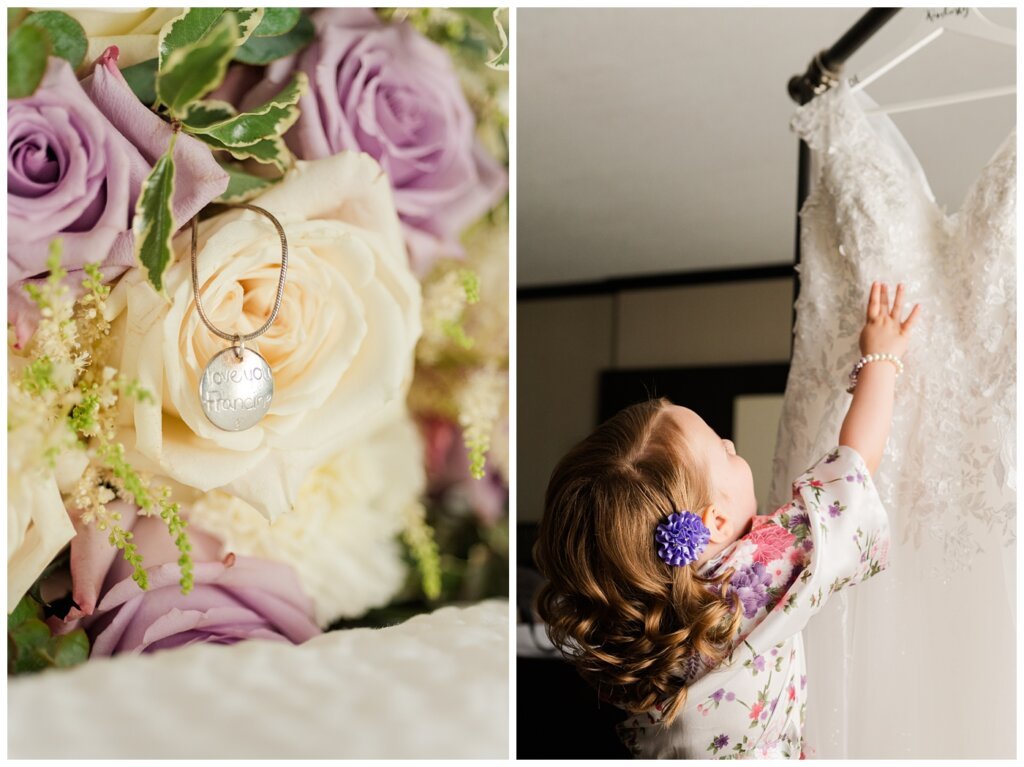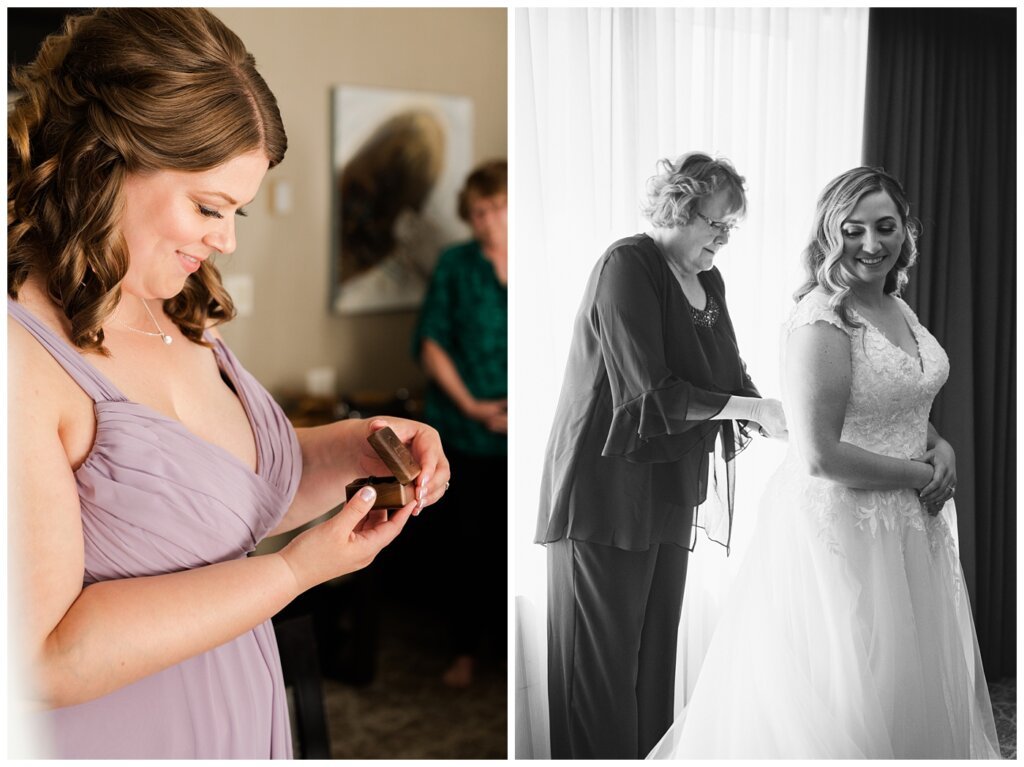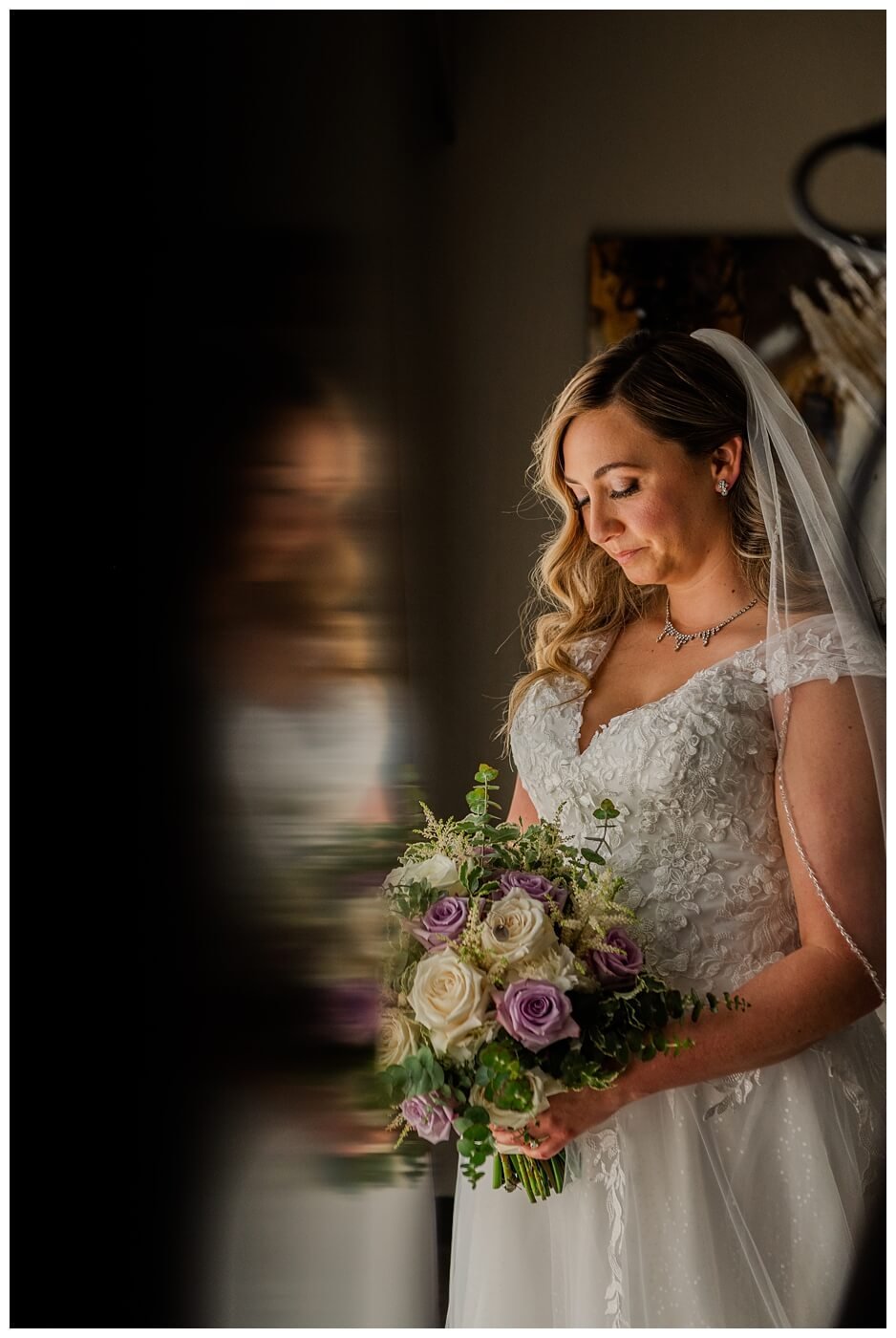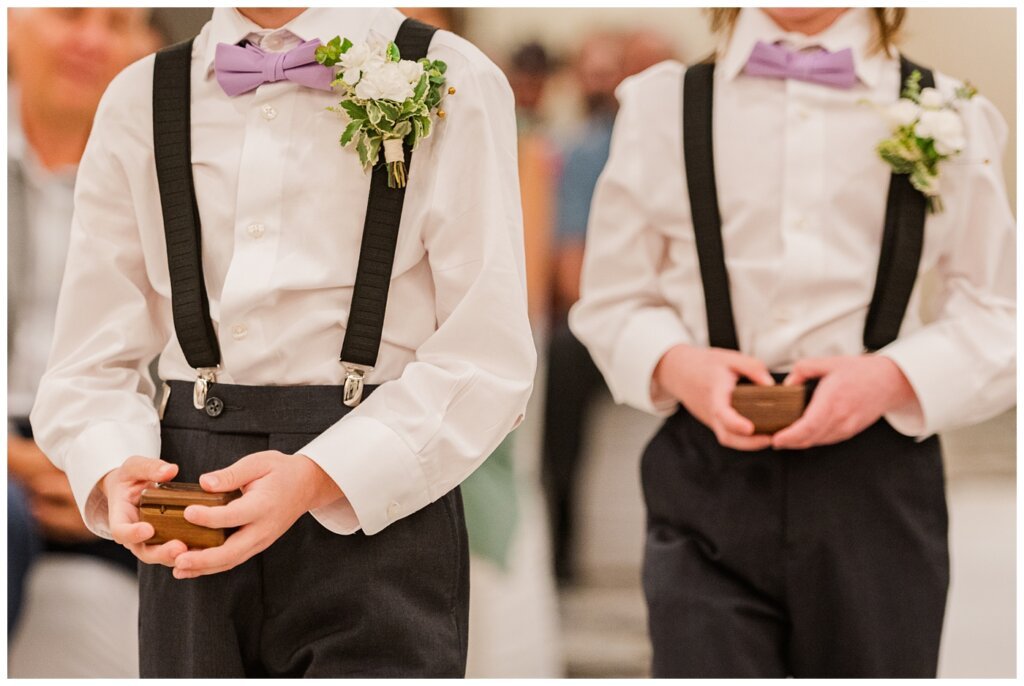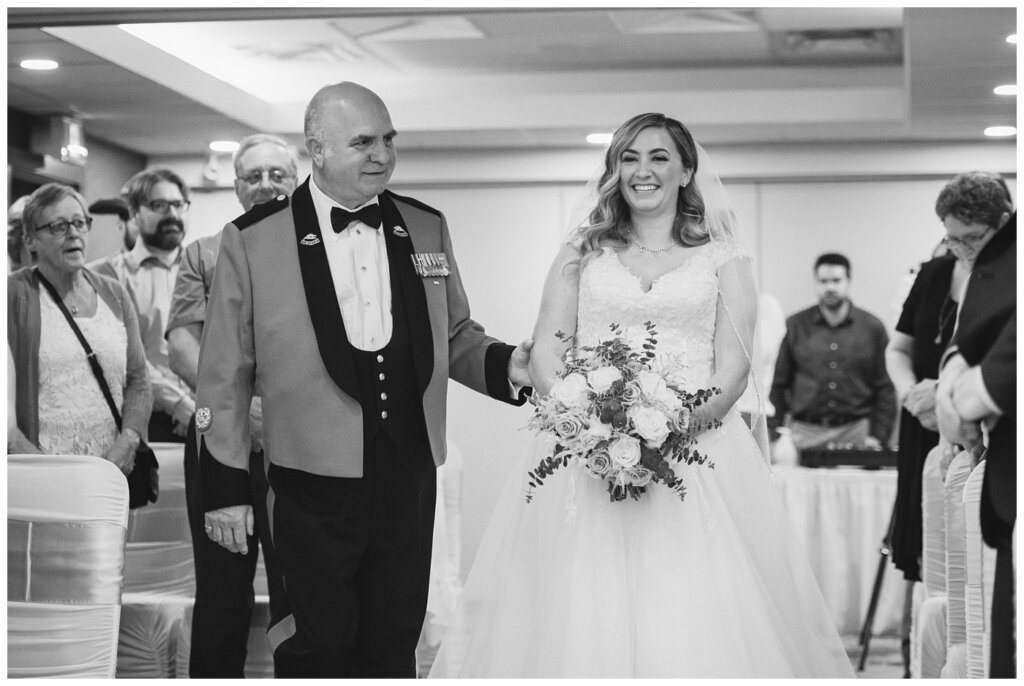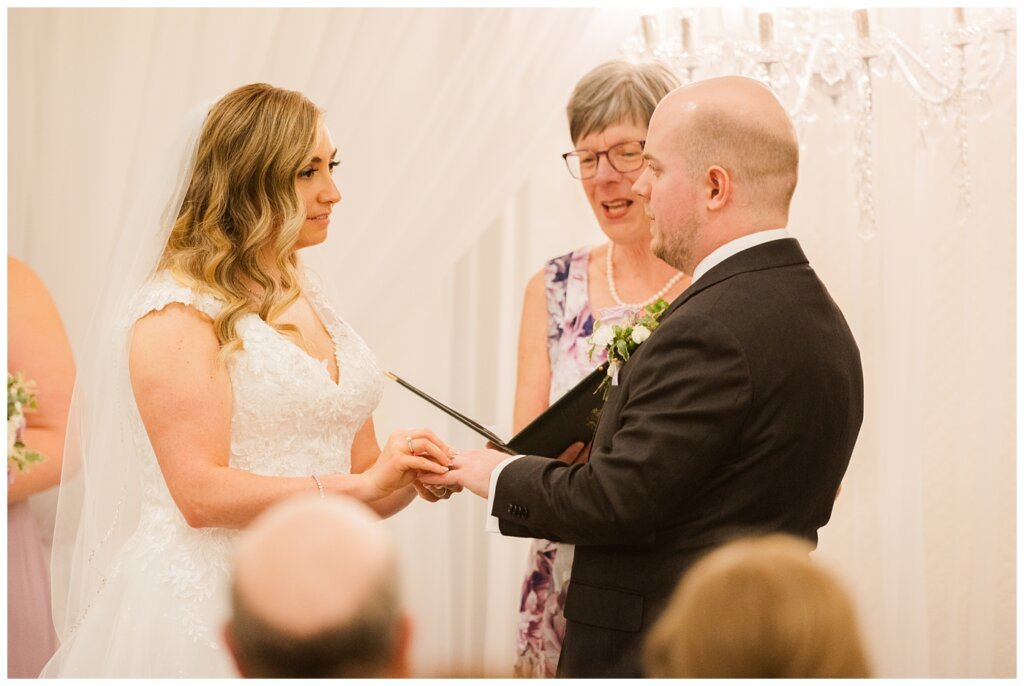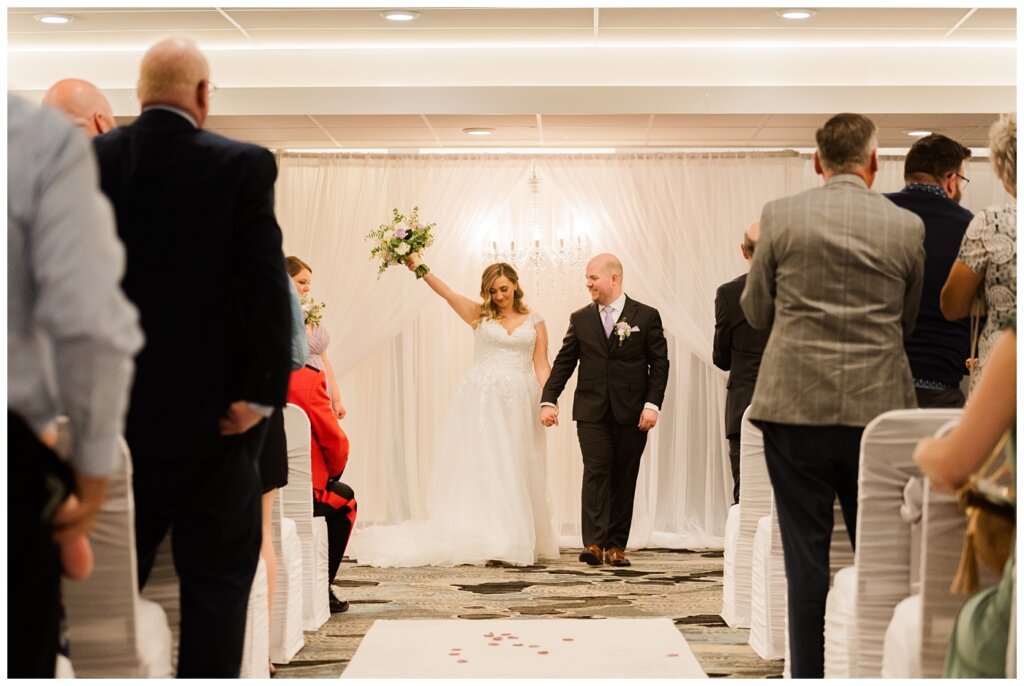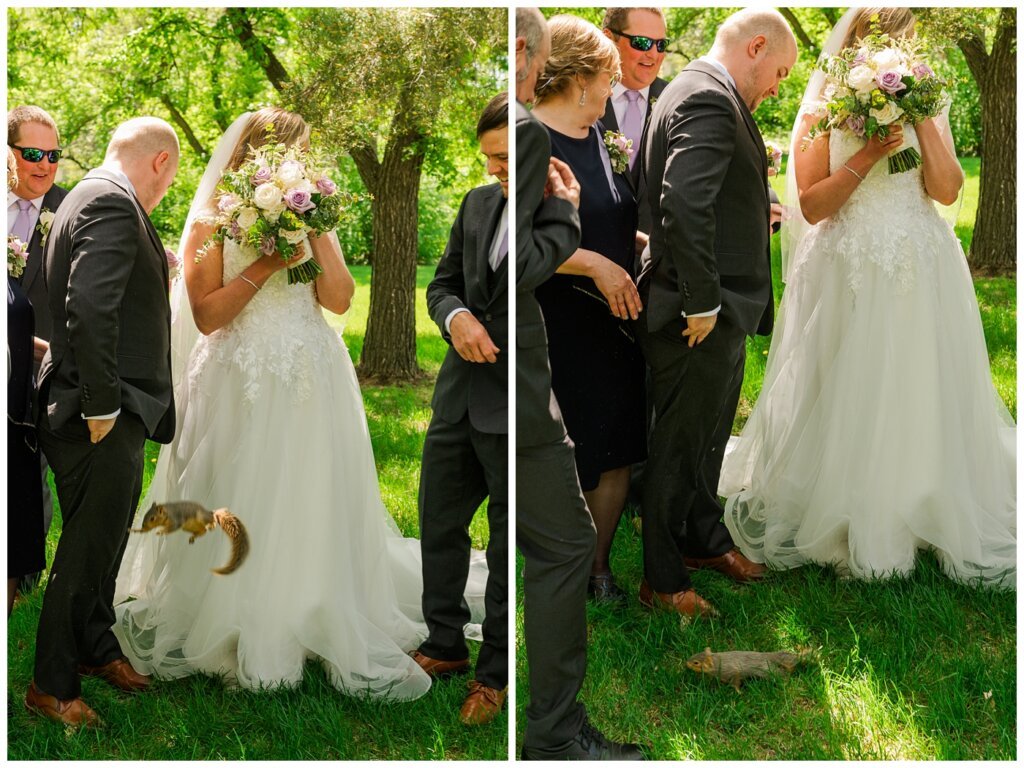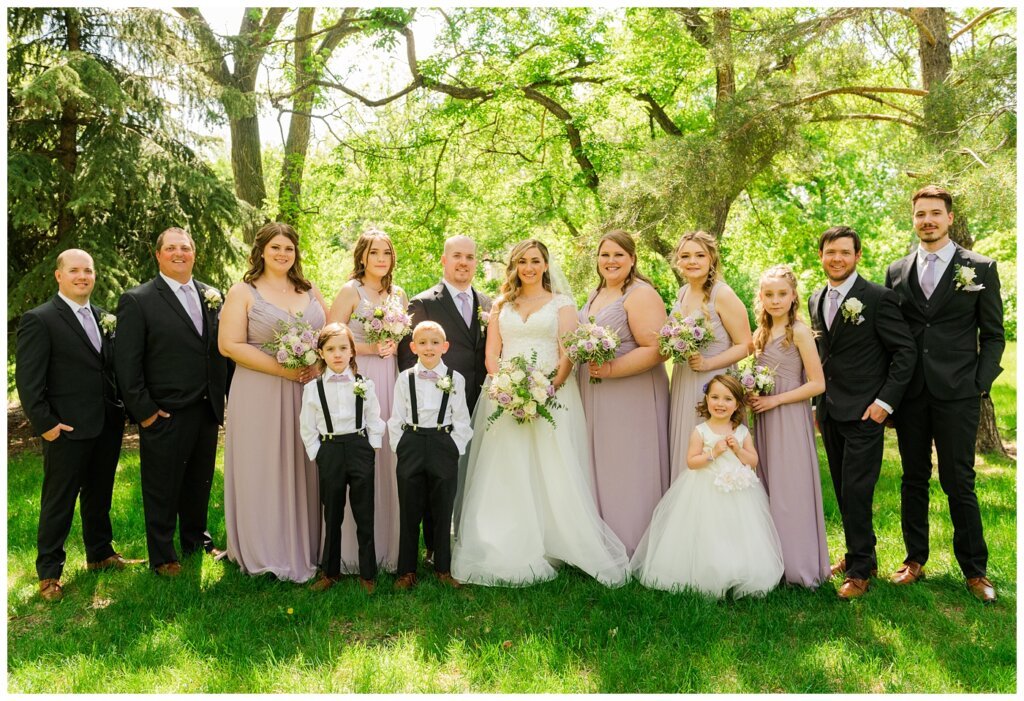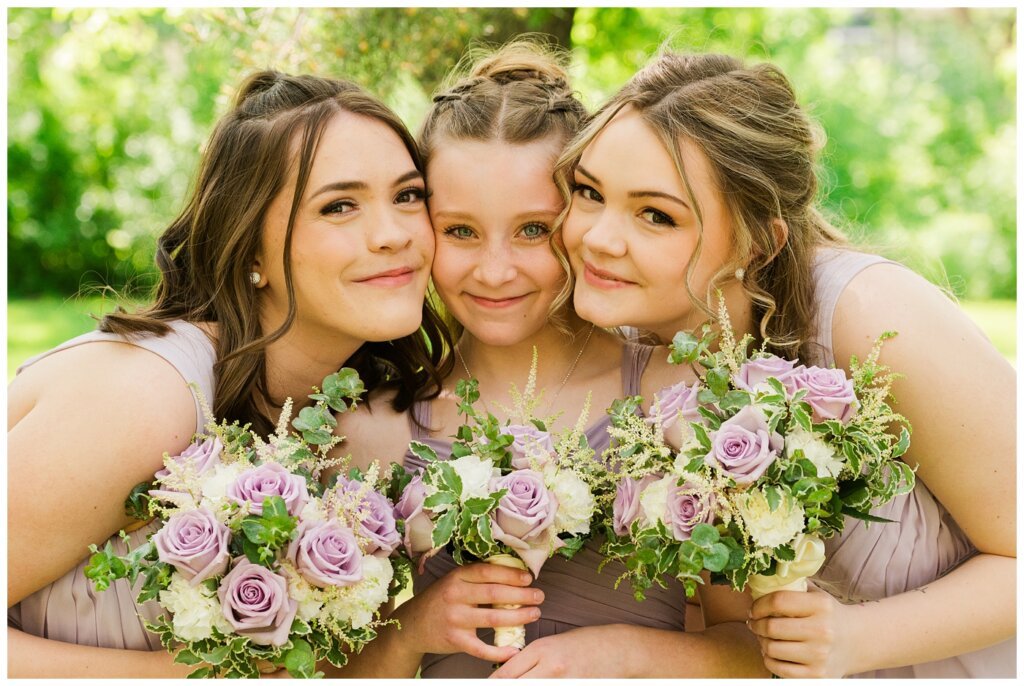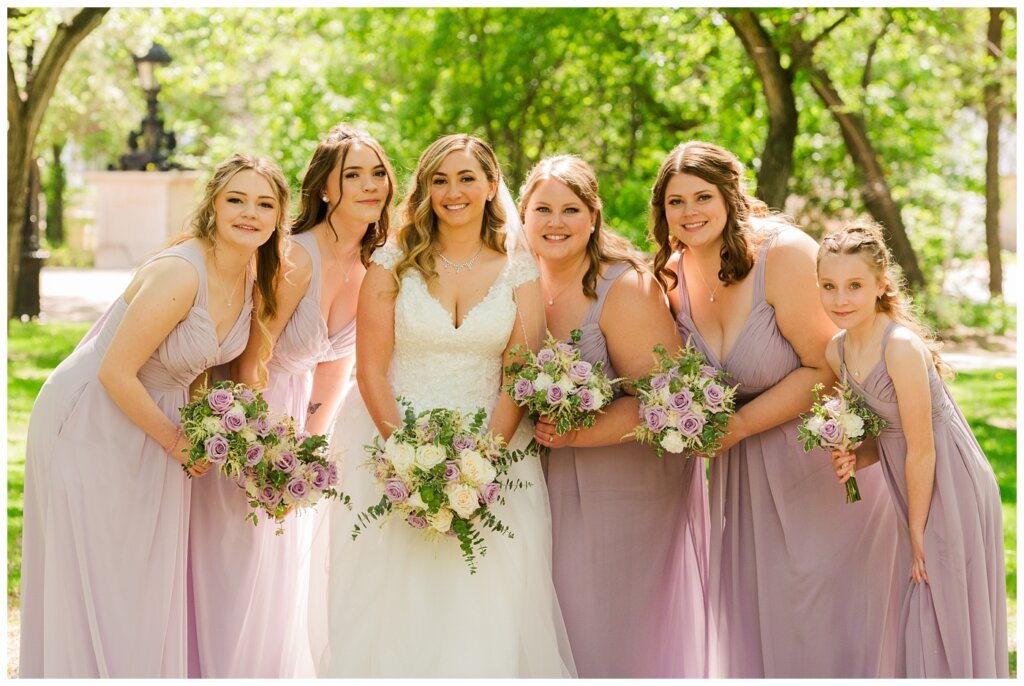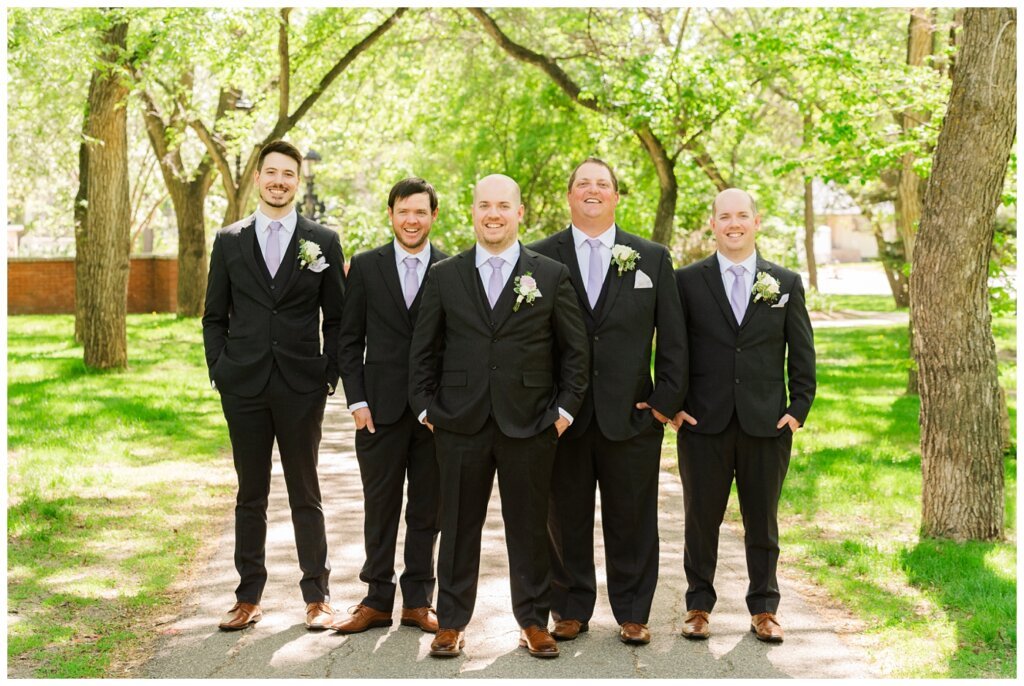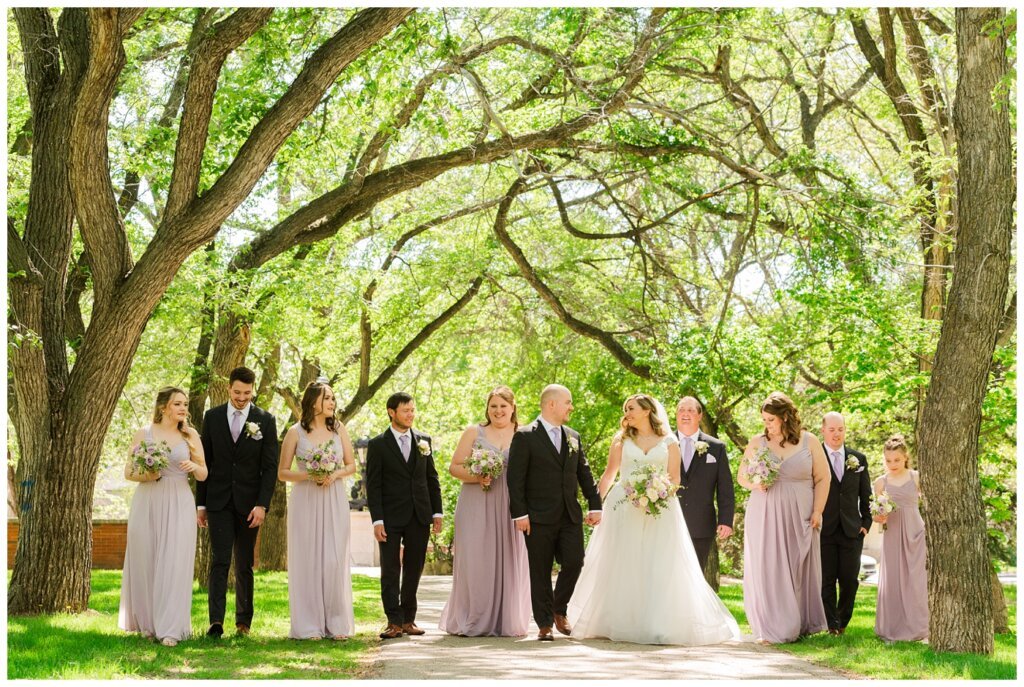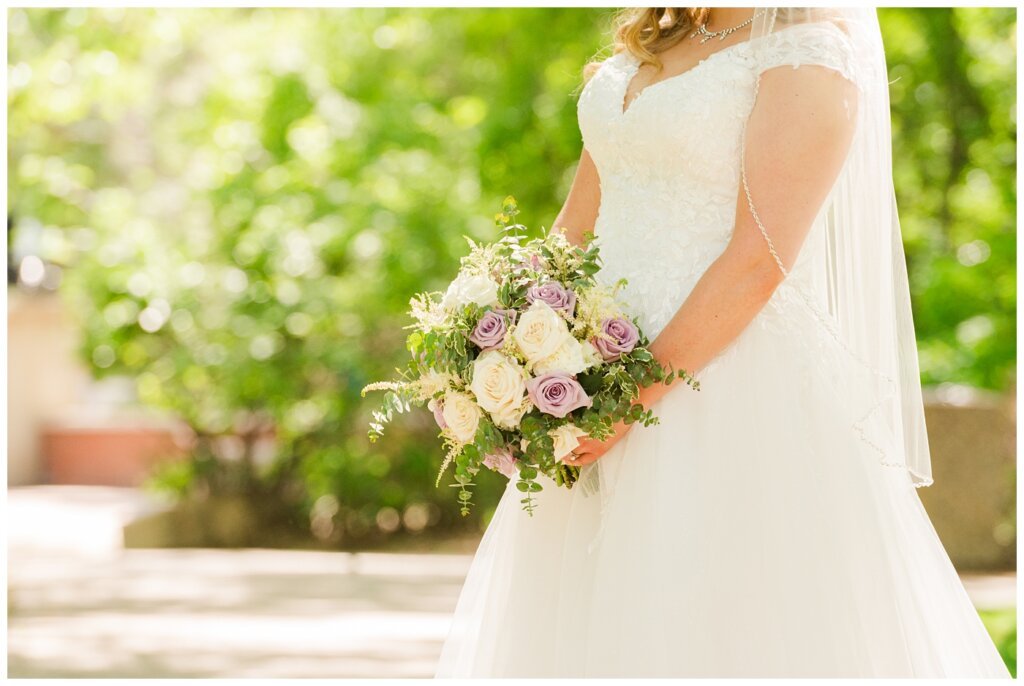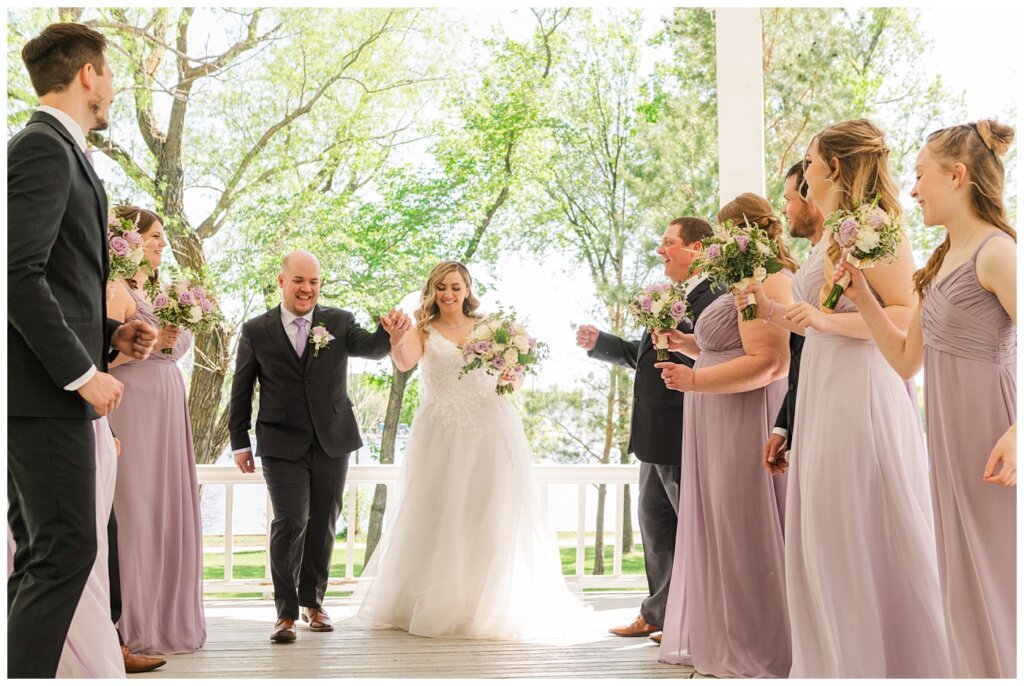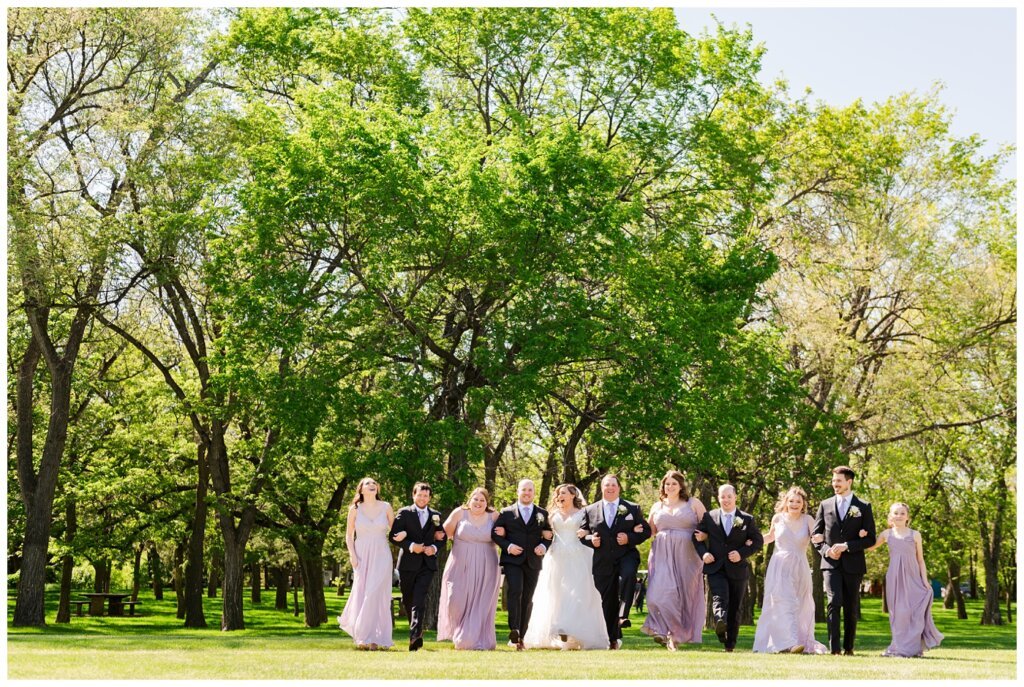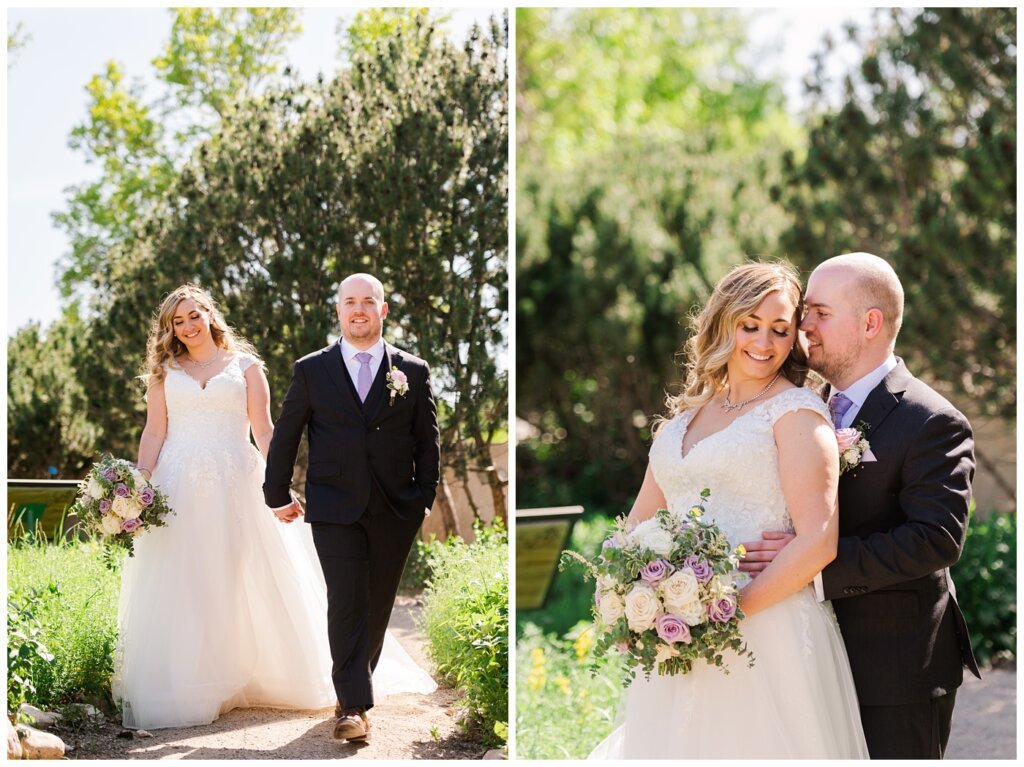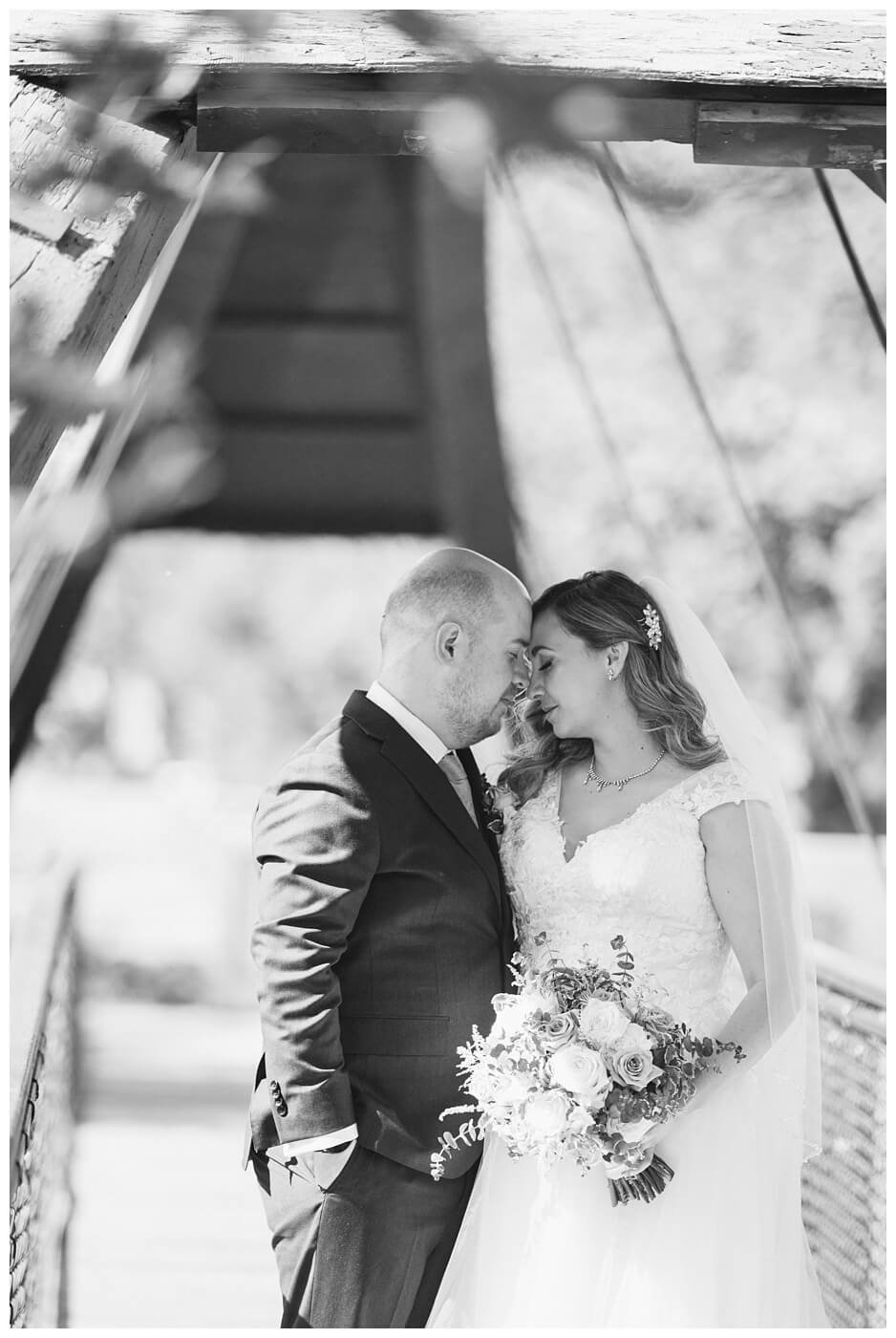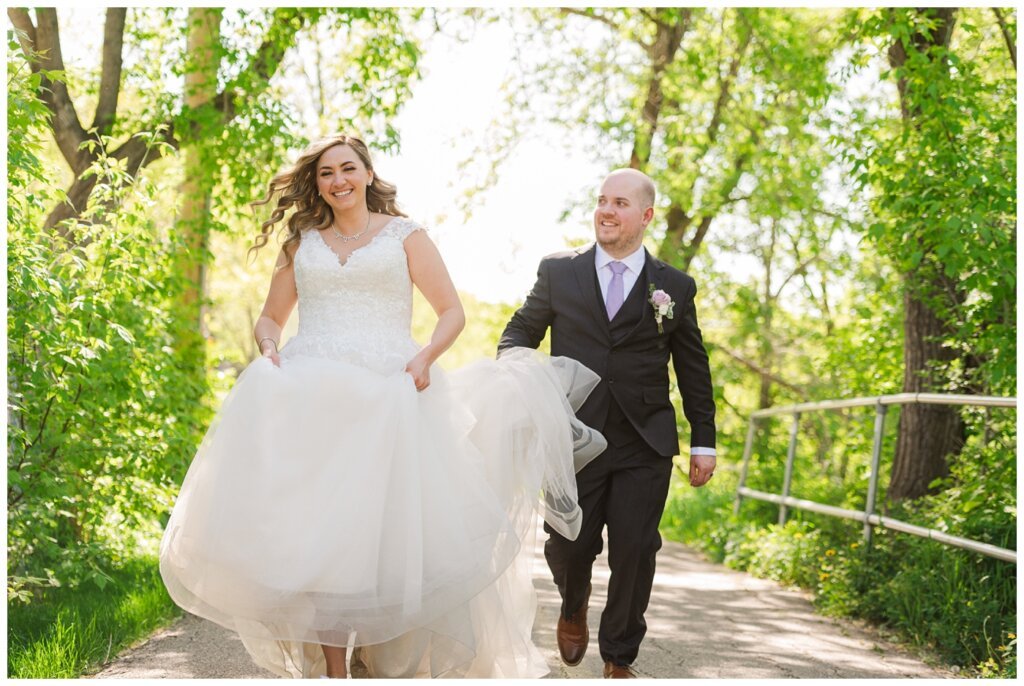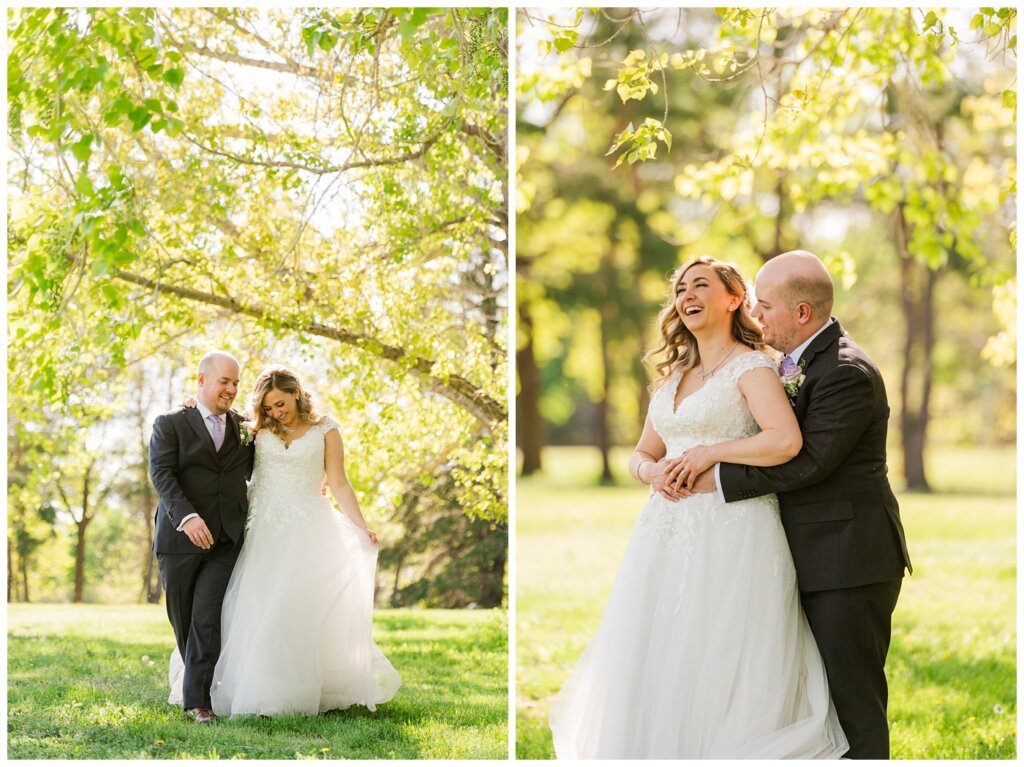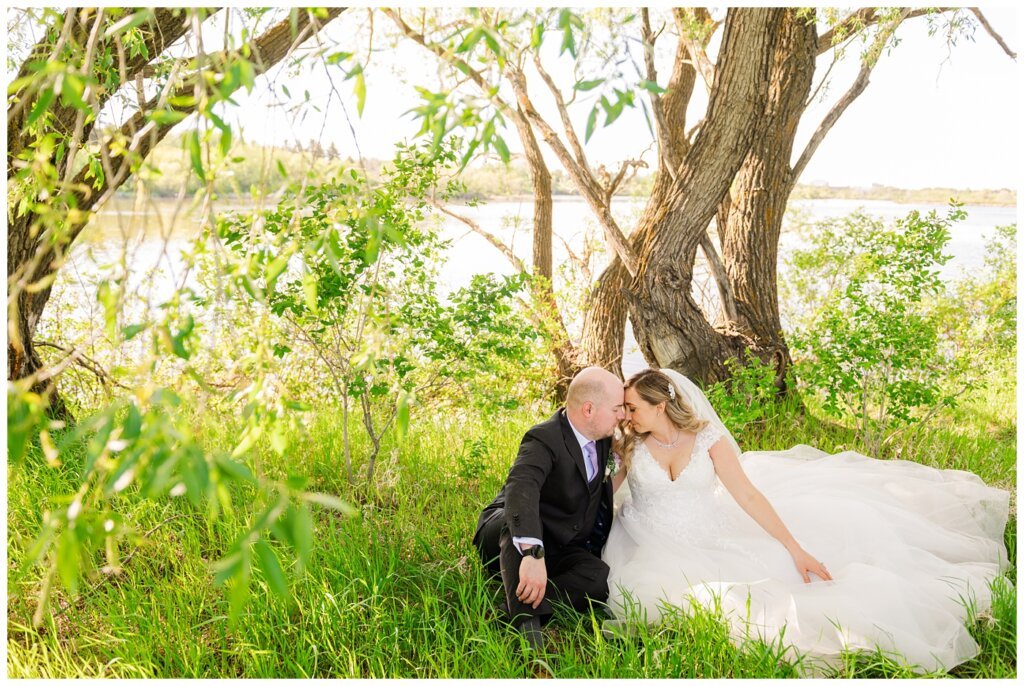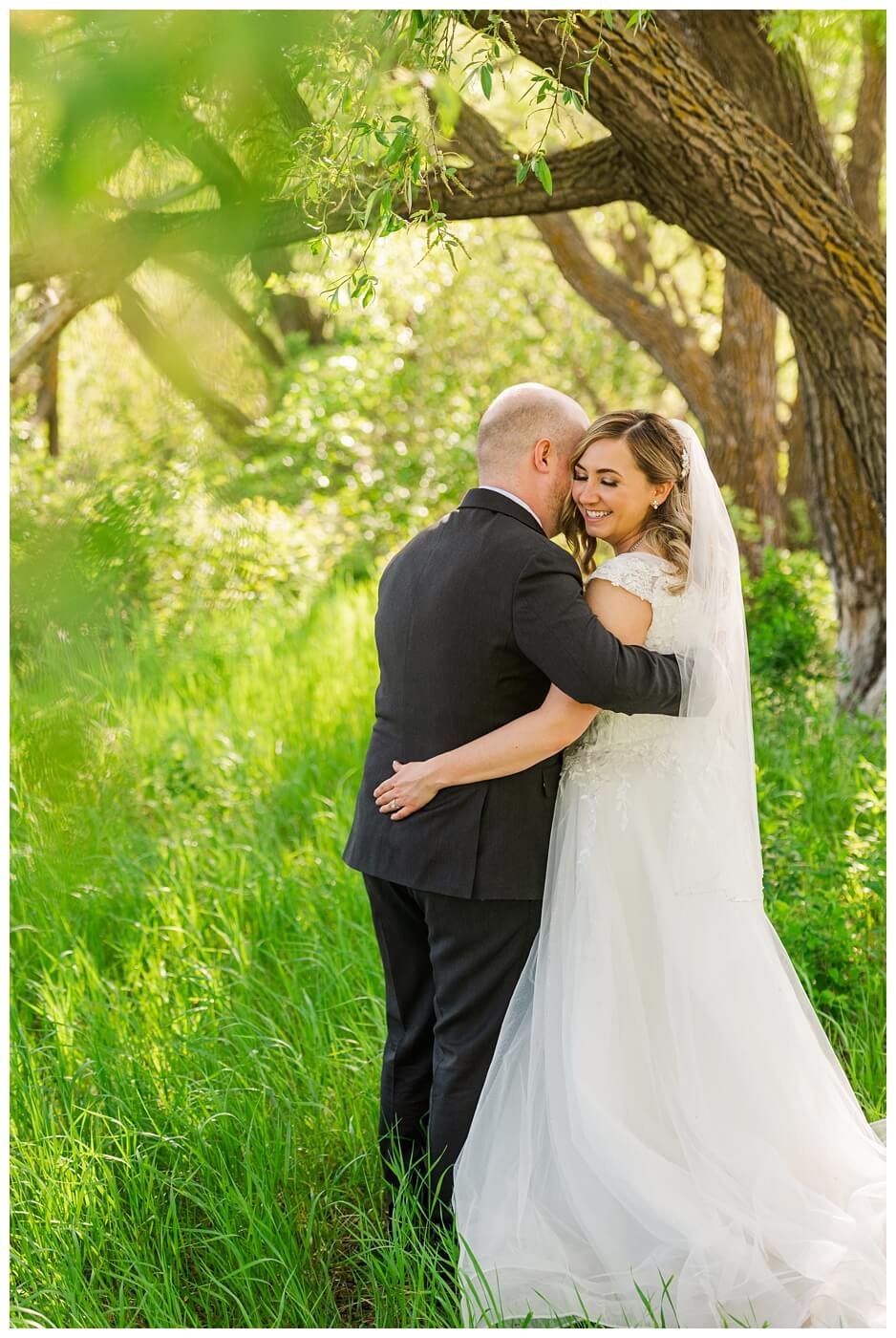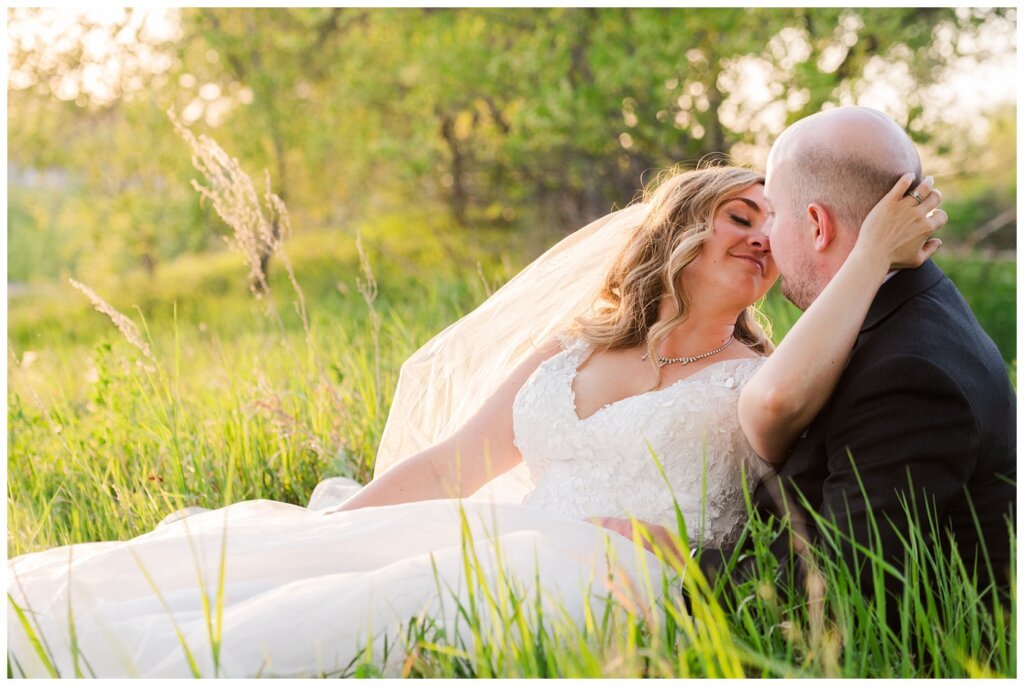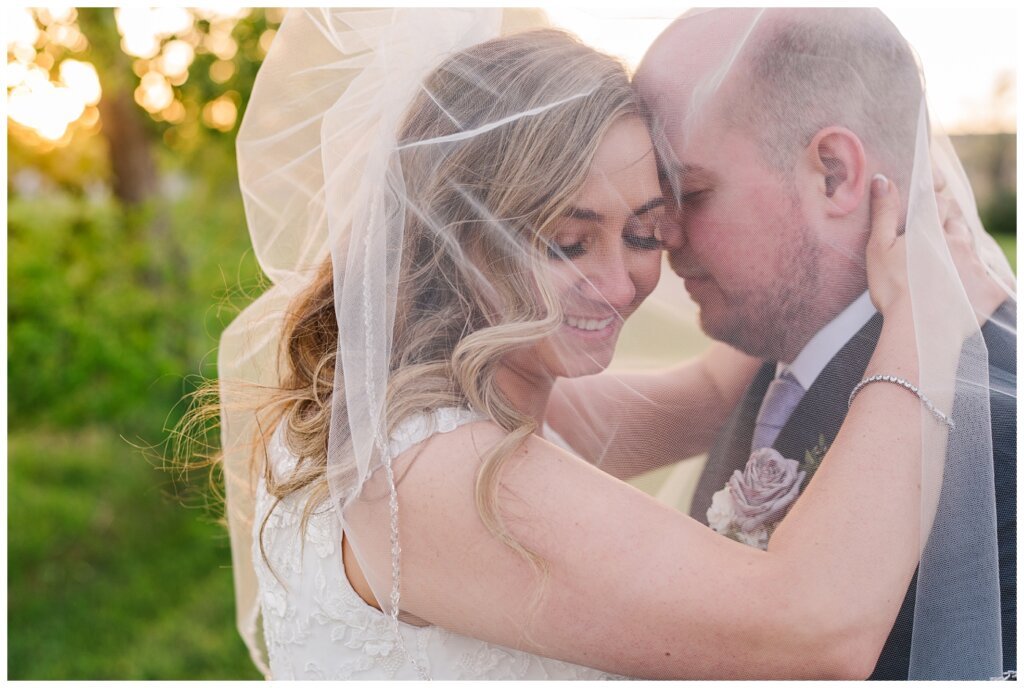 Wedding Vendors
Bridal Party Hair: Salon Society
Bridal Party Makeup: The Beauty Collective
Bride's Dress: W Bridals
Bridesmaid Dresses: Newline Fashions & Bridal
Groom & Groomsmen Suits: Moores
Flowers: Wascana Flower Shoppe
Rings: Peoples | GMG Jewellers
Ceremony & Reception Site: The Atlas Hotel
Marriage Commissioner: Barbara Jones
Wedding Cake: Queen City Cakes
Videographer: Anaquod Videography
Decor: A Tymeless Event
DJ: Rhinos Lighting & Sound