We spent the night at the Watoto guesthouse in Gulu, and this morning continued on our journey to our safari.  Before leaving Gulu, we had the chance to stop by the Living Hope center for women.  The mission of Watoto's Living Hope center is to empower women who are HIV positive, or who were victims of unimaginable violence, and to give them their life and their joy back.  Not everyone is familiar with the history of Uganda, so here is a brief explanation as to why they need this.
Gulu is a city in the northern part of the country that was immensely affected by Joseph Kony and the LRA (Lord's Resistance Army), in a war that raged on for over 20 years.  The LRA committed unthinkable atrocities against the people- raping and/or mutilating them, abducting women to become sex slaves, murdering husbands, wives, children, and abducting village children, forcing them to become child soldiers.  The LRA would often come at night, abducting children from their homes, and force the children to do unthinkable things, such as shooting their families, to give the children no hope of escape, as they'd have nothing to return home to.  The buildings that now used as the Living Hope center were initially built to protect the thousands of children who would commute every single night to have a safe place to sleep.  It was amazing and heartbreaking all at once to hear the Living Hope administrator tell us that this campus means so much to the women who are a part of the program because it has given them back their freedom and joy, but also because it played a vital role in keeping their children safe each night.
Women who have lost their husbands, or those who have HIV are treated as though they are of little value in African society.  Living Hope takes in women who are HIV positive, were greatly affected by the war, or who are just in need of help, and teaches them a skill that they can use to provide a better life for themselves and their family.  They start by going through counseling sessions with the women to help them deal with the emotional, physical, mental, spiritual traumas that they have faced.  I have heard some of these women's stories, and they are beyond things that I could ever imagine in my worst nightmare.  BUT, I can also share with you that these are some of the most beautiful, joyful, forgiving women that I have ever met.  The Acholi people (who primarily live in the northern part of the country) are amazing singers and dancers.  They sing loud, and they sing proud.  Today as we stood in on their morning devotion, we listened to them sing and saw them dancing and rejoicing, we witnessed the absolute joy that has been restored in their lives.  I could do nothing but stand there with tears rolling down my cheeks as I witnessed women who were no longer broken, but empowered, and free.  Through this program, they have been given a living hope in an amazing God that can deliver them from the most terrible things this world can throw.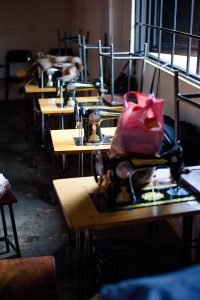 I can't speak enough positive things about this program- it is absolutely incredible.  The women go through their initial counseling sessions, and when they are ready to begin, they take a questionnaire to see where their interests are.  Living Hope teaches the women to sew, do beadwork, make peanut butter (that is DELICIOUS by the way!), and they will soon be making pure shea body butter as well.  When women graduate from the program, they are given their sewing machine as a tool to carry on their small business- how amazing is that?!?  Living Hope also offers the women business classes to enhance their knowledge, and further empower them as they go back out into the world with their small business.  They also offer the ladies who are interested classes to learn to read and write, as for many of them, the opportunity to go to school was something they were not afforded.
This is what is painted at the main gate of the Living Hope center in Gulu- it is an amazing statement: