Congratulations! You're engaged and planning out each intricate detail of your wedding day. There is a long checklist of things you will be looking for and I can guarantee one will likely be a makeup artist! Today we are giving you an inside look at one of Regina's greatest makeup artists who will help you and your entourage look your best for the big day!
In today's Regina Wedding Vendor Spotlight we are featuring Regina makeup artist, Samantha Tran, whose business is Sam Tran Beauty & Wellness. We love working with Samantha for weddings and other events! She does such an amazing job and is a delight to be around. The makeup she does is flawless, enhancing each person's natural beauty and unique qualities. We wanted to give you the opportunity to get to know Samantha and to see some of her beautiful work!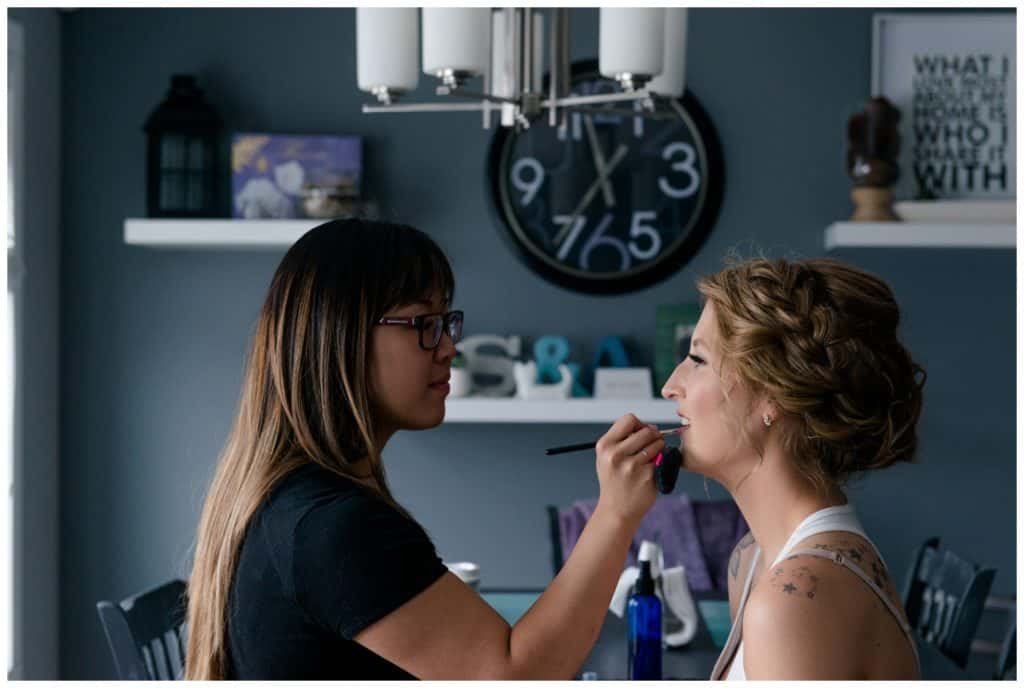 Tell us a little bit about you! How did you get started as a makeup artist?
I have always been interested in playing with new products and makeup! My passion for makeup started in high school. When I initially expressed interest in pursuing esthetics to my parents, they wanted me to go to university and get my degree. So at that time, I decided to pursue my other passion- education!
While I was teaching, I started doing makeup for my family. After doing the makeup for my cousin's wedding, many people approached me, saying that I should consider a career in makeup. I was still teaching full-time when I decided to pursue certification in eyelash extensions. My makeup certification quickly followed and I combined the lash and makeup business into what is now known as Sam Tran Beauty & Wellness. With the support of family, friends, and other local makeup artists, I grew my skills and business. My business has served Regina and the surrounding area for over 3 years now. The business is constantly growing and evolving- I love it!
How do you come up with your makeup design ideas?
It took me years to find out what my "specialty" was. I had many other artists comment to me on how beautiful my clients' skin looked. That became the basis for 'my look'! I love a look that showcases naturally dewy skin. My aim is to use only as much makeup is required to suit the request of the client. I don't believe in caked on or extreme makeup!
My ideas start with what the client shares with me. Through our conversation, I begin to understand their comforts and what features they want to emphasize. I take into consideration their outfit and type of event, and then I start my work! As I work, I show the client throughout the process to ensure they're happy with the progress. It's 100% a collaboration of ideas between the vision I have and what the client is looking for.
Is there a particular brand of products that you use?
I love trying all different kinds of makeup! There are a few particular products that I use that have been tried and true, but I love experimenting with new ones! I love MAC Cosmetics, Tarte Cosmetics, Urban Decay Cosmetics and NYX Cosmetics.
Do you recommend a makeup trial for brides before the wedding?
I actually require a trial for all my brides! Trials allow time for the bride & I to get to know one another before the wedding. I always allow at least 2 hours for the trial appointment. Because we will be so close, I like getting to know my brides! So we will talk- a lot! It is important that she knows and trusts me. Developing a connection with each bride is something I truly believe in. If the bride requires a second trial because she wants to see other options, I am always open to that!
The most important thing to me is that the bride is comfortable in her look. I do not take any offence to any feedback during or after the trial- that is the point! The goal is to find what look will suit her best. I ask my brides to gather pictures of looks they feel would suit them prior to our meeting, reminding them to find a look that is timeless. When they look back at their photos 20 years from now, I want them to still love how they looked! I want the bride to feel special, authentic and beautiful. To ensure that happens, the trial is vital. The day of the wedding day can be so stressful for the bride. If she knows me and is confident in her makeup beforehand, I find it can help calm her while we get ready.
It's important that my clients understand what my style of makeup is. I don't believe in heavy makeup. Instead, I believe in enhancing their natural beauty. I want it to feel authentic. When their husband-to-be sees them, I want him to gasp and ask himself, "How am I so lucky to marry this woman?"
Do you have a studio? Or do you travel to the bridal party prep location on the wedding day?
I provide on-site services. On the wedding day, I will go to wherever my bride needs me to be. It eases the stress for them! As for the trial, sometimes it will occur at the bride's home, or in my studio space.
What is your favourite makeup tool to help brides look their best on the wedding day?
I looooove lashes! False eyelashes really are the icing on the cake. There are so many styles to choose from! If a client has never worn lashes, I carry shorter clusters with me so that the lashes are more comfortable. There are lashes that fit every different eye shape. They make such a difference!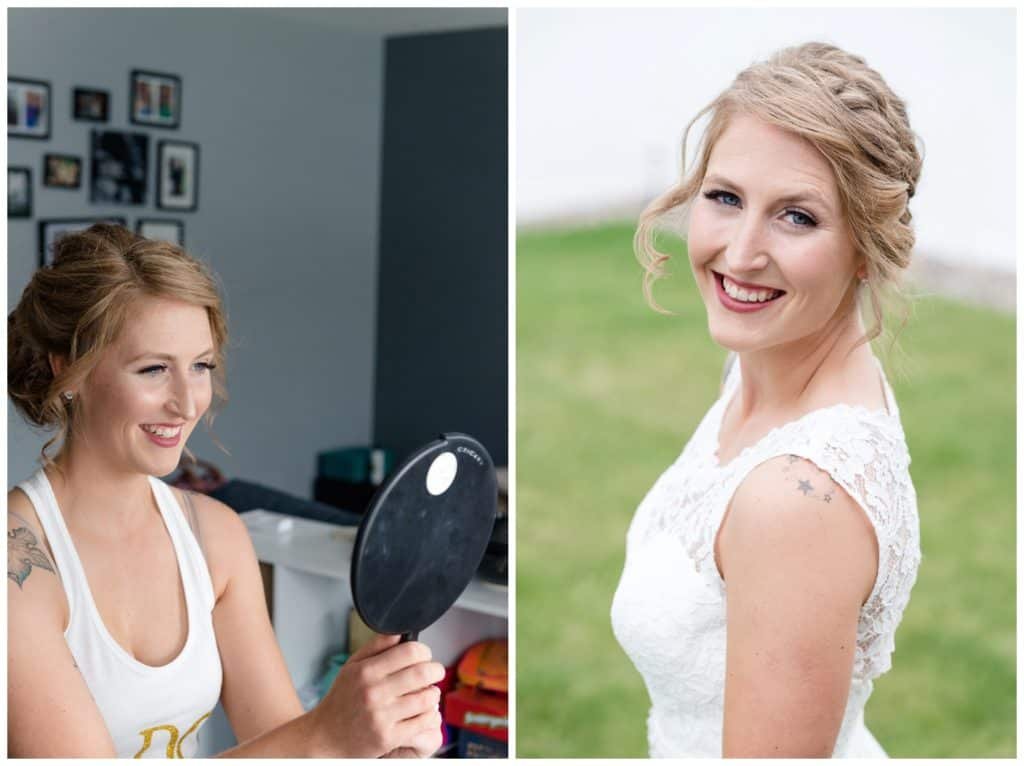 What tips do you have for bridal parties on the morning of the wedding day? 
I recommend that you arrive with a clean, moisturized face. If you have inspiration pictures of makeup, bring them along! Find makeup examples that suit your face, eye shape and personal style.  To help the wedding day go smoothly for the bride, I would also recommend a mini emergency kit. The kit should include lash glue, lip balm, mints, Kleenex, blotting powder or oil sheets and a portable cell phone charger, just to name a few essentials!
How many weddings do you take on for the season?
I don't limit the number of weddings I take in a season. However, I do try to keep to only one wedding a day. I like to focus all of my time and energy on that single wedding. This helps my bride feel like she is the centre of my universe while I am with her- because she is that important to me!

Thank you so much, Samantha, for talking us through a little bit of your process! If you are a Regina bride looking for a makeup artist, I would highly recommend contacting Samantha to set up a consultation. I can attest that she will enhance the beauty you've already got while maintaining a naturally flawless look. She does beautiful work, is a wonderful person, and I can say that you will not be disappointed! Follow Sam Tran Beauty & Wellness or go to her website to see more of her beautiful creations!
xoxo
Courtney & Cam